Let's not pretend that I'm anything but late to this AmorePacific brand paradise. Amore Seongsu has been open since October, and is a beautifully designed space to showcase pretty much all of the products released under individual brands of the AmorePacific family: so we're talking the eponymous Amore Pacific label, as well as Etude House, Innisfree, Mamonde, Sulwhasoo, Laneige, Hera, Iope, Happy Bath… all 34 appear somewhere in the space. They even got Osulloc in there too, with a rooftop cafe.
Amore Seongsu is a brand experience with a difference. The difference being that you can't actually buy anything there, but can try out everything. Well, you can purchase the 'Seongsu Toner' (named after the neighbourhood, but also a play on the Korean for 'Holy Water': 성스러운 물 / Seongseureoun mul. Seongsu and Seongseu are pronounced very similarly.), but you can't purchase any of the other products at the store. Instead you can scan a QR code present on each product which will take you to the AmorePacific Mall, where your entry gives you 7,000won off the total of your purchase. For me, it made Amore Seongsu feel much more like an exhibition space that they want you to immerse yourself in, rather than a glorified store where the goal is still to have you make a purchase. You don't leave empty handed, though! Each check-in to the Amore Seongsu location also give you a coupon for 5 free samples, which I'll talk about a little later.
Layout of Amore Seongsu
The space itself is beautiful. High ceilings, an industrial, yet retro, feel to the decor and furnishings which tied functionality with elegance. Amore Seongsu is U-shaped so that visitors can flow naturally through each stage of skincare, with each stage being split into zones. First is the entryway / lockers, where you 'check in', receive your coupons and a guide, once you're done you can move onto 'cleansing' where you can actually cleanse your face using brand items. It's a very calming, zen area, spa-like with wide windows to offset some of the dark appliances.
After cleansing, you're greeted with new products from AmorePacific brands, with a whole wall of skincare to the left that helps to transition into the 'skin sensory' section, a clever strategy, in my opinion, to hook you in to testing out the new things before you see all the other makeup there is after the skin sensory section. There's a whole table dedicated to lips, with other makeup products running along the left wall.
Amore Seongsu's focal point is the Seongsu garden, sitting beautifully in the middle of the U-shaped building. You can see it in every section, and the seating areas created for testing the products on display freely, face it. It makes the whole building feel very calm and incorporated into nature, as the windows are large and sit floor to ceiling height. According to the head of AmorePacific's design Team, Heo Yu-Seok, this was a very conscious decision to help the garden bring life into the area, as well as making visitors feel comfort.
Along from the lip table is the 'Powder Room' area, where you can apply makeup, or have your makeup done, at a beauty station. When I visited, makeup application by one of the staff wasn't available (understandably), but you could still do your own, or fix your hair.
After the Powder Room came Amore Seongsu Market. Not a real market, of course, but a tester / sample market where you can choose your 5 free samples, as per your coupon. You can choose 2 'bottle type' samples, and 3 'sachet type' samples to bring home with you. Here, you can also purchase the Seongsu Toner. After the Market is a staircase to the men's restroom (2nd floor), women's restroom (3rd floor), and the entrance to the Amore Seongsu flower shop (1st floor, straight ahead).
The Second floor is the Osulloc cafe, and the 3rd floor is the rooftop space, which on a sunny day with clear air is beautiful, giving views of Achasan-ro, the big road with the arches that supports Subway Line 2 and Seongsu Station.
More than just a showroom
Amore Seongsu is more than just a showroom. Sure, there are over 3000 products and 30+ brands, but they actually hold classes every month for makeup, flower arrangement, or perfume making. It adds another dimension to the idea of a concept store, and is again, clever marketing as it will help convince visitors to maybe make a purchase later on, if they can both experience and learn about the products they're using.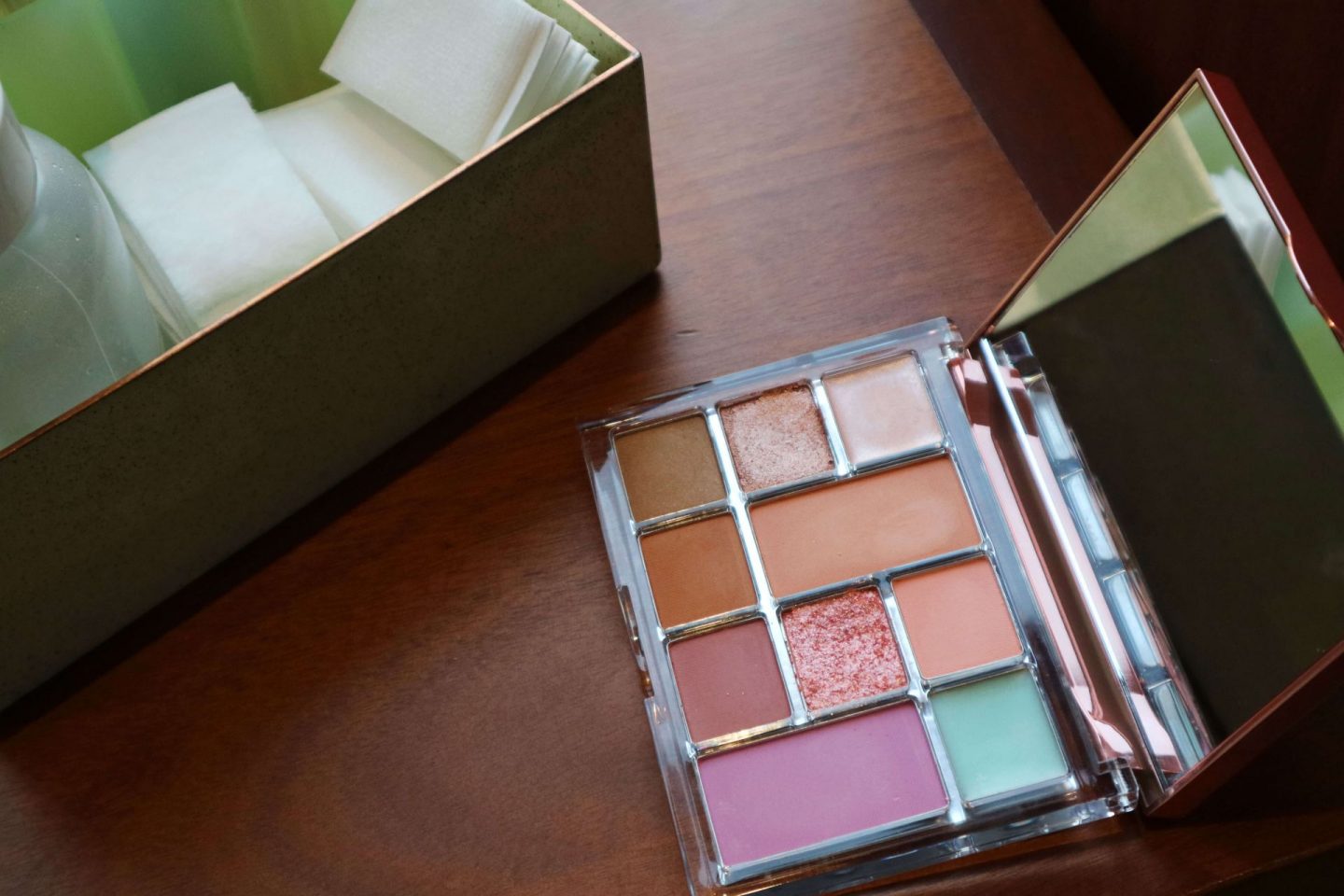 Downsides to Amore Seongsu?
I seem to be singing the praises of Amore Seongsu, and that's because it honestly feels like a no-pressure experience. There isn't anyone trying to make me buy, heck, there wasn't even anyone pushing me to try if I didn't want to. It's all very self-driven. You can ask for help if you want to.
However, if you're looking for, or only purchase cruelty free or vegan products, you will most likely not find what you are after here. Although the company did declare a ban on 'unnecessary animal testing for cosmetics' in 2013, many of the brands under the label have a presence in mainland China, where they still require animal testing on imported products. Those that have a presence in Hong Kong do not, as animal testing is not required there. Even though AmorePacific brands do not test on animals (as per Korean law), if they have a presence in Mainland China, then they do caveat their 'no animal testing' with 'unless required by law'. Which is a whole grey area, and something I am actively looking into and contacting brands about.
Also, although I'm sure the staff are on it with maintaining high levels of sanitation, I'm not entirely sure how I felt with all the testers – especially the lipsticks and skincare that came in pots or tubs, not pump action. I'm fine for swatching on the back of my hand to see colours, but I've witnessed a lot of makeup mavens put those product testers directly on their lips in the case of lipsticks, or fingers into tubs and pots… and I'm not too fond of that. I was keen to swatch some of the other colour cosmetics, and was happy to see in the seating areas there were lots of disposable applicators to help keep up good hygeine practices. But there's always one to ruin it for the many. So if you're not down for that, then the space becomes more of a pretty AmorePacific brand archive than a testing space.
Final Thoughts
I genuinely really enjoyed my time looking around. There's a small area that shows the evolution of AmorePacific in its branding and advertising, and I loved the retro-industrial feel of the space. As I've already said, I really liked that it wasn't a pressured experience at all, which meant that I was free to walk around at my own leisure and try as many things out as I wanted, as many times as I wanted. I walked through many of the areas multiple times, and it felt very comfortable. The whole area is built to be 'Instagrammable', and filming is allowed, which makes it less awkward for me.
I'd definitely recommend stopping in if you're in the area. It's located about a 5 minute walk away from Seongsu station exit 2, just along from Cafe Onion and Cafe Bot.
Reader Interactions