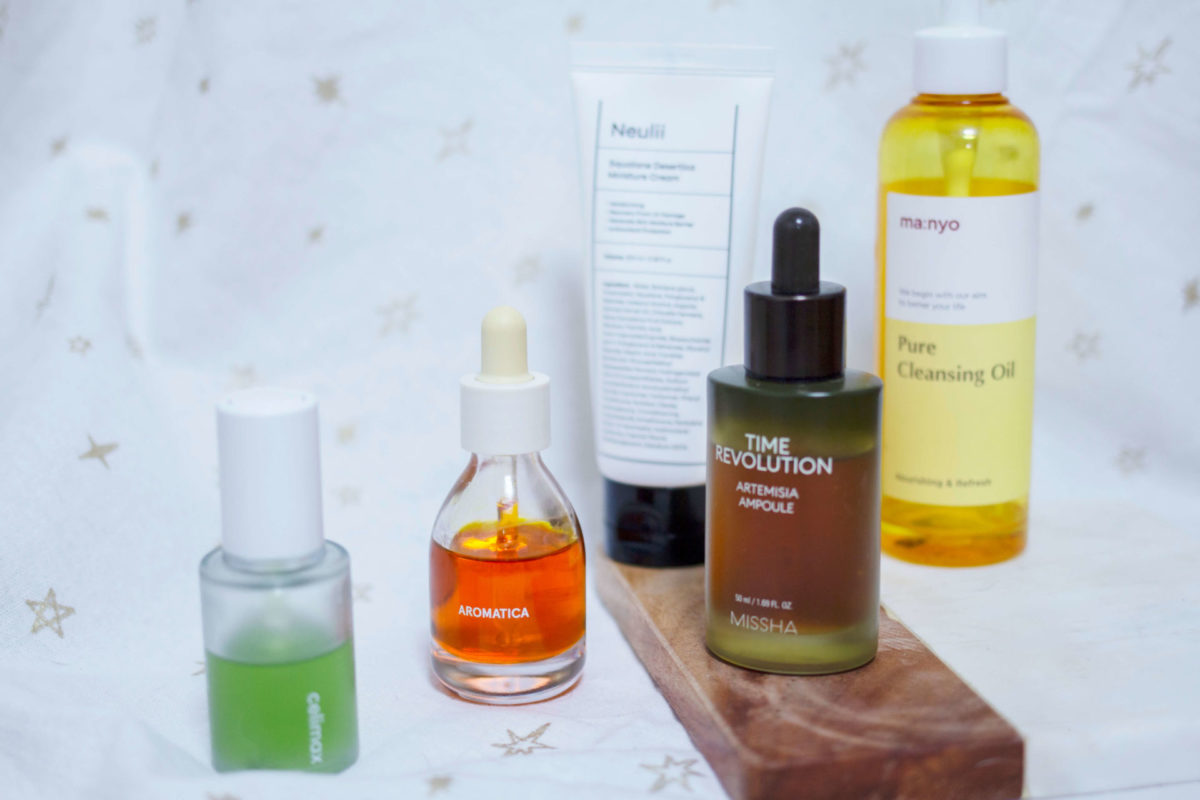 2020 was … a year. Pretty shite for things like travel, hopes, dreams, mental health… the list of things lost to last year is long, but 2020 was a good year for skincare. It was really interesting to see new releases geared towards new problems (hi maskne, you're still not welcome) and even though scandalous, it was refreshing to see some of the cult, internationally recommended, beauty sunscreens be called in for SPF testing. I've also done a fair bit of skincare shopping this year, and found some really great products that I consider my best skincare purchases of 2020.
celimax The Real Noni Energy Ampoule
Oh my skin has loved this. Celimax isn't a brand with as extensive product range as some, but what they have is *chefs kiss*. The Noni Ampoule was one that I saw being recommended fairly often on naver skincare blogs as a quick fix for dull morning skin (especially if you haven't been hydrating well) and damnnnnnnnnnnnnnnnnnnnnnnnnnnn. Yup. It does that. Absorbs wonderfully, quickly, doesn't leave a sticky residue and sits well under makeup. Honestly I was a little skeptical before purchasing (so I got it on coupang for about 10,000won instead of it's usual 16,000), but I've honestly been so pleased with this purchase.

The packaging is also fab. It has a pipette style applicator, but you twist the cap to raise the bulb to draw in the ampoule, press, release, then screw down to seal the container. IT'S FANTASTIC.

My only criticism is that the bottles aren't larger than 30ml.

Ingredients to note:
71.77% Noni fruit extract and Noni seed oil, containing high amounts of vitamins (especially A and C) and antioxidants. Like most plant extracts with high antioxidant levels, it also has skin soothing properties.
Adenosine helps to diminish the appearance of fine lines and wrinkles, also has skin soothing properties.
Neulii Squalane Desertica Moisture Cream
I've been slowly adding very small amounts of actives (Bha's and Pha's mostly) back into my routine now that the eczema on my face has cleared completely. Usually, my skin finds actives quite rough (sensitive skin problems) so it requires a good moisturiser to help keep the dryness away. I'm a huge fan of squalane as an ingredient, as it mimics your skins natural oils so is a great emollient.
The moisturiser absorbs well, is unscented, and doesn't leave your hands feeling sticky or slimy after use. It's quite a creamy consistency, also not the thickest so probably would work best as a day cream rather than a night time moisture lock if you're into thick creams or sleeping packs to really keep all of your skincare in. I've loved using it, and find that it's enough for my skin even in the biting Korean winter cold.
It's slightly amusing to me that years and years and years ago I would get neulli brand samples with kbeauty orders from roserose shop, and here I am actually buying their products, full size. 🙂
Ingredients to note:
Vegetable Squalane hydrates, balances oil production, has anti-inflammatory properties
Apple extract has anti-inflammatory properties to help sooth skin
Argan Kernel oil provides nutrients
ma:nyo pure cleansing oil
ma:nyo (previously ma:nyo factory) have been topping the Olive Young charts of first cleansers with their Pure Cleansing Oil. It's a lovely cleansing oil that melts away makeup, spf, and all the gunk that collects on your face during the day. It's on the richer side, feeling-wise, but emulsifies well and doesn't leave a filmy, slimy residue on your face after washing it off. It also isn't stripping, so is great for those with dry skin.
I originally brought this for the boy to help with his acne, but ended up stealing it mostly for myself. It was my favourite cleanser throughout the time I used iit last year, so easily makes the list of best skincare purchases of 2020, and I'd definitely recommend it, especially if you're looking for an alternative to DHC's cult favourite oil cleanser.
Ingredients to note:
Olive, jojoba seed, and argan oils to cleanse and moisturise
Soapwort for a non-irritating foam to gently cleanse
Fermented rice to balance the skin for a supple feeling
Camellia oil and evening primrose extract to revitalise and reduce the appearance of tired skin
Missha Time Revolution Artemisia Ampoule
This was my first skincare purchase from Missha for a long, long time, and I knew as soon as I tried it, it was going to be one of the best skincare purchases of 2020 for me. The Time Revolution Line is Missha's calling card for skincare, and honestly I'm surprised I hadn't hopped on the bandwagon before I purchased the Artemisia Ampoule. I guess I was caught up in cosRX and generally just trying to repair my skins barrier, plus Missha has always been the maturer ladies' brand – and I love me some cutesy packaging.
Artemisia, or mugwort, as an ingredient is something that I have loved for skincare in 2020, it has great anti-inflammatory properties to help soothe irritated skin, as well as anti-bacterial to help fight acne and it's also a great moisturiser. So basically an all-around ace ingredient.
This ampoule feels so luxurious. The packaging has that apothecary feel with the dark green bottle and pipette dispenser. The product itself retains that decadence with a silky texture, that absorbs quickly into the skin. It does have a slight scent of mugwort but it isn't particularly noticeable when the product dries down. It makes my skin look immediately plumper after using, an effect which fades throughout the day, but it does help to keep my skin nice and hydrated and supple looking.
Ingredients of note:
Artemisia (mugwort) extract for its anti-inflammatory, anti-bacterial, antioxidant and hydrating properties
Aromatica rosehip cold press organic face oil
It took me forever to find this product in stores. As a vegan, cruelty free Korean beauty brand, Aromatica has become increasingly popular and I have a number of their products in my beauty supply. Their cold pressed rose-hip oil was recommended to me by a makeup artist I had on a photo shoot in 2019, and I had been searching for it ever since. Finally, I managed to pick up a bottle – on sale no less! – in the huge Olive Young at Seoul National University Station. It's not the cheapest product (25,000W for 30ml) but rose-hip oil is a wonderful ingredient for your skin. It's got linoleic and linolenic acids, essential fatty acids for your skin, so is wonderful at soothing irritation. It's touted as a wonder-product in the beauty world, and I've often heard people say its the only thing they use.
The Aromatica cold-pressed rose-hip oil is deep orange in colour (if your rose-hip oil is very pale, it could be a sign it's processed), and feels lovely on the skin, very hydrating. If you don't like the feeling of oil, then cold-pressed oils probably aren't going to be your cup of tea, but once it's patted in gently it absorbs well with only a slight sheen left. Honestly I've loved using it so much I'm on my second bottle. 🙂
Ingredients to note:
Cold-pressed rose-hip oil has high concentrations of Vitamin A, B1, B2, B3, and K, it has great regenerative and healing properties. Also containing vitamin C to help with evening of the skin tone and fight free radicals
So those were my best skincare purchases of 2020! I thoroughly recommend them, as they really have improved the overall appearance of my skin, in my opinion. I know that I'm very lucky not to have deep acne scarring or a lot of hyper-pigmentation, but I do have some surface texture issues and discolouration that these products are helping I feel. Everyone's skin is different but I hope that if you try these you enjoy them as much as I have!
Let me know in the comments if you've tried any of these products and how they're going for you! And don't forget to catch me on instagram for daily doses of my life in Korea on stories. I'm also loving tiktok at the moment so if you have that you can find me there too 🙂
Reader Interactions