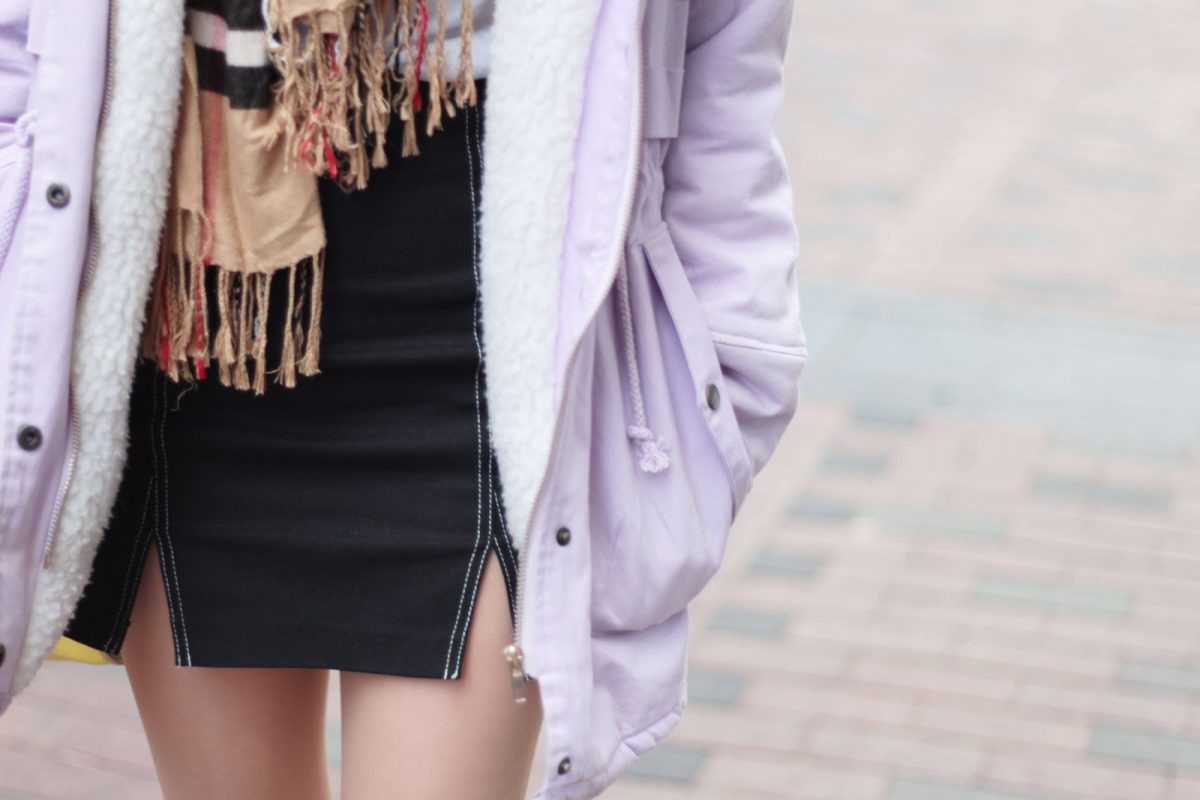 I have four truly winter coats. The shearling aviator, the, toggled duffel, the ski jacket, and the parka. Basically almost all style bases are covered (apart from the camel/black long greatcoat I AM SEARCHING FOR YOU). Some were true investments, but some, like this beautiful lilac parka, were a little bit cheap and cheerful, which makes the cost-per-wear insanely good.
I mean the cost-per-wear for all my coats is pretty damned fab but you know when you get that surprise bargain jacket and suddenly the world sort of feels like it's going a bit better? Yeahhhh. if you follow me on instagram, you've no doubt already seen it (if you're not following me yet then I post a lot of fashion, food and sky pictures heh), but here are the details.
The most surprising thing about this jacket is it's from Romwe. Yup, that fast fashion retailer that's incredibly hit and miss. I picked it up at the start of 2015 when I wanted to see if shopping there was worth it at all (I'm on the fence, but you can see the full review here), and this was one of the decent products I was pleasantly shocked by.
It's warm, it's lined, it's a great length, it fits really well. And it's lilac. A beautiful pinky-toned lilac that stands out from so many of the other coats it's kind of really refreshing?
As I said, I've had this since the start of 2015 and it's actually had quite a bit of wear, I've just never had the inclination until recently to shoot an outfit with it. Despite it's coloured nature, it's actually really quite easy to style – I tend to find parka coats work with so much, be it more a more dressy look to bring down a notch or two, or a casual look that just goes with the style. They're a brilliantly versatile style of coat if you're looking for something new – and with all the sales currently around snapping one up for a decent price should be quite easy!
I've styled this one with a more subdued colour palette – blacks, whites, and browns, just so the coat is definitely the main focus. Though I do like the continuation of the pastel theme with the bag. The scarf in another Romwe find from the same haul, and again it was something I'm incredibly pleased with – it's so soft and warm and looks like a Burberry to the untrained eye (but definitely isn't). I've got a black and white baseball tee on from Urban Outfitters, one of my favourite styles from them, if a littttttle bit see through in the white. But again it's super soft and really comfy, a great throw-on for day to day.
The skirt is from Chuu, and if you weren't aware already this Korean brand is quickly becoming a firm favourite of mine. It's a black denim with contrast stitch detailing and these little slits at the front to allow better movement, with a zip up the back. I've had issues in the past with asian denim not being especially thick or structured, but then again, that's generally from the street market stalls so I wasn't exactly expecting great quality for the price. This skirt is pretty damned durable, holds its structure really well, and is just all around cute. Definitely would recommend Chuu as a shop to buy from if you're looking for more Korean brands to branch out to. It's run by four women, which is also fab. 
The boots are my only venture ever into boots that sit higher up the ankle. Again, they're a Korea purchase – I don't remember which area, but it's most likely to be Edae. They're not the comfiest right now, I don't really wear them out enough to have broken them in, and the heel vs toe height isn't the smallest. But they're super grippy, they have thick treads on the sole, not quite cleated but definitely makes running or walking quickly in the colder months when it's all icy much easier. They have a zip down the side so you're not having to continually lace up the front, and I'm so in love with the buckles at the ankle and the gold banding around the base. Those features were what drew me to the shoe in the first place.
I do love how they look, but should I get a sock-type boot to give them a sister pair? Hm.
The finishing touch to this look was the hat. I have quite a few and generally forget to use them to accessorise, mostly because I'm chronically bad at remembering to add accessories, but also because hats are work. They're great for hiding a slightly less than grand hair day, but the slightest hint of wind and suddenly they're off. I don't need that level of responsibility or constant fear of wind in my life yet.
wool fedora – h&m // coat – romwe // scarf – romwe // top – urban outfitters // skirt – chuu // boots – Korea // bag – Korea
But I'm definitely going to be working on what I forget to wear or use in my wardrobe. Since August, I've been doing 'mini culls' of the clothes, shoes, bags, basically all wearable items, I've had hanging up or in boxes avoided since finishing uni. It's so long overdue it's laughable, but I'm determined to sort it out and either get the items to new homes that love them more than I have, or donate them to those who need them more than I do.
One of my resolutions for 2017 is going to be to only buy bits I know I'm going to wear a lot of – and I've done really well at this in 2016, but it's something that I need to keep doing and reminding myself of. It's probably going to be quite challenging, I'm still defining my personal style and I think that's going to carry on for a while, so I don't think I'll be ridiculously restrictive, but definitely look for things to work with what I already have!
shop similar
Let me know what you think of this outfit! Oh, and also if you're planning on any fashion or style related resolutions or goals for the new year!
♥
Reader Interactions