10 step routines. Glass skin. Gradient Lips. Packaging so cute that you want to keep everything after you're done. Essences, ampoules, mists, serums, lotions, sleeping packs, sheet masks; pile it all on like the articles say, or strip it all back like they say the natives do? The 'crazy', escalating world of Korean Beauty is, for all intents and purposes, thoroughly overwhelming for anyone trying to dip their toe in. Let alone those who are wanting to incorporate more of it into their daily beauty routines. THERE'S SO MUCH GOING ON ALL THE TIME. WHERE DO YOU START???????????
That is a very good question.

One I think I can help you with, considering I have no real affiliation to any brands (I wish I did), and I'm not trying to sell overpriced products or curated starter kits. I'm as neutral as it gets – I have my favourite brands, yes, but first and foremost I am an advocate of good, affordable skincare and for helping those interested in the world of K-beauty navigate their own way.

I'm also a terrific enabler, but that's another story for another post 🙂
What's in this post?
A light overview of K-beauty: what it is and why it's suddenly everywhere
Is it good?
A Korean beauty breakdown: the different categories – roadshop, department store, and aggregate stores
Where to start with skincare – the absolute essentials, the next steps, the added extras, with product recommendations.
Where to buy Korean beauty products if you're not in Korea.
Are you ready? It's long.


What is K-beauty?
K-beauty is the nickname given to Korean Beauty, or beauty products originating from South Korea. It's a multi-billion dollar industry, an arm of South Korea's soft power, and now a serious player in the global game. The reception of k-beauty has been mixed; from sensationalist posts heralding it as the saviour of skincare, to articles suggesting that the 10 step routine is a myth and likely to give you contact dermatitis. Regardless of which camp people are on, everyone has heard at least something about the behemoth that is the South Korean Beauty Industry.
Why is it everywhere?
Short answer: the western media loves to sensationalise anything that is not originating from a western country. It's StrAnGe and DiFFerEnT. Quirky. Also, everyone loves a bandwagon.

Long answer: South Korea has been crafting a very, very effective soft power initiative that focuses on three incredibly marketable aspects of the modern day South Korea: K-pop, K-dramas, and K-beauty. Mostly, these have been aimed towards the Asian market, as that is where South Korea has primarily needed to achieve its Foreign Policy objectives, especially as a fledgling democratic nation in the nineties and early noughties. But, with the internet and its nature, these have been thrust in front of a global audience for a lot more people to consume.

And consume they have.
Is it any good?
I'm not here to pit K-beauty against other countries, whether products work or not depends entirely on skin type, dedication to a routine, and what results you're looking for. If you have any major skin concerns I will always recommend going to a dermatologist first and foremost, as they are professionals and really know the ins and outs in regards to what is going on with your skin. Also, diet, hydration and lifestyle play an integral part on the quest to Clear Skin.

But.

In my experience, the K-beauty industry does offer products at a significantly more affordable price point that do get results. Not results in the sense of overnight sensations and miracle Holy Grail's – most off-the-shelf skincare isn't going to do what a decent dermatologist or aesthetician can do in one sitting. Results in the sense that K-beauty is underpinned by a dedication to routine, and routine is what gets results.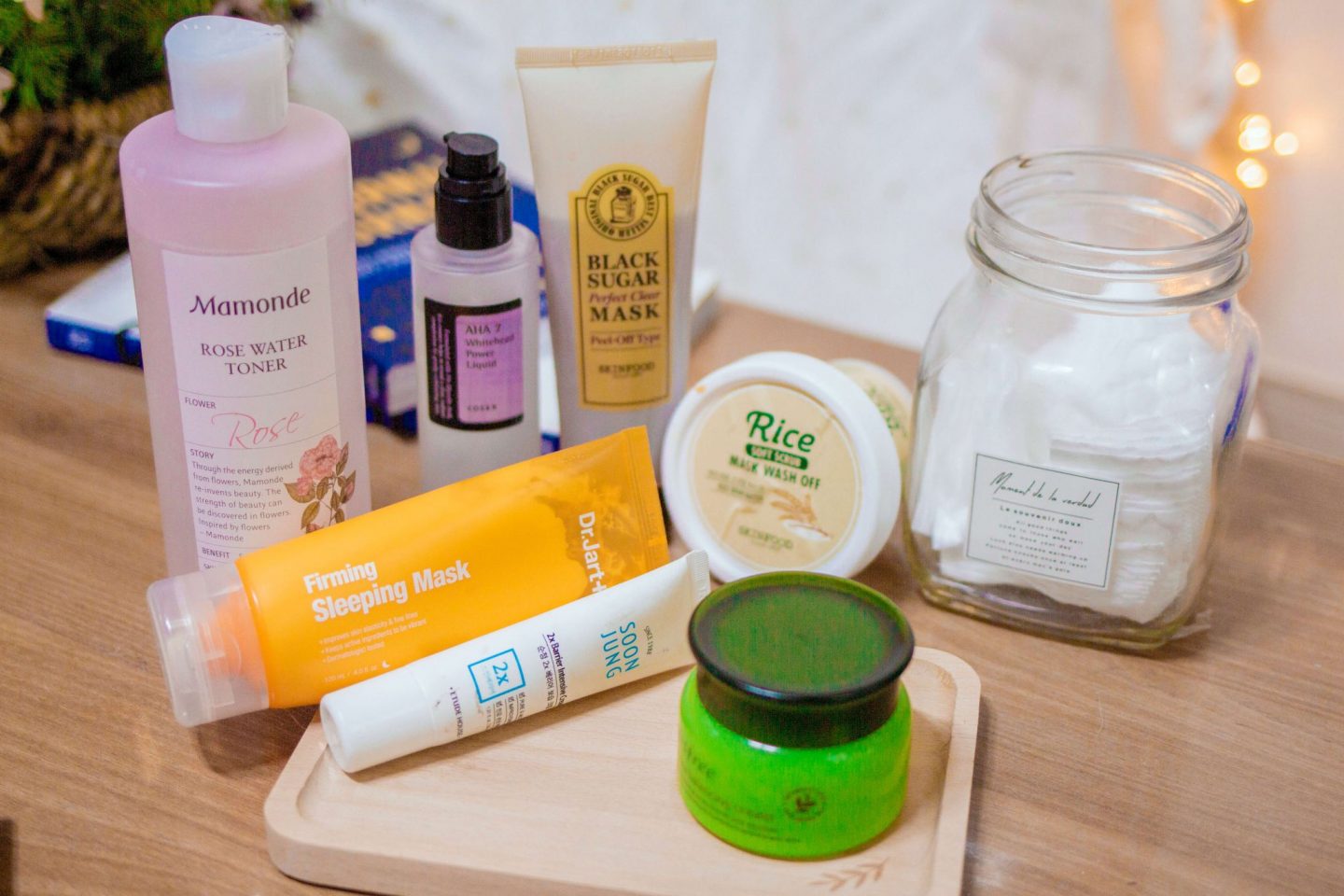 The K-beauty breakdown:
K-beauty has two main divisions: skincare and makeup. You can achieve 'glass skin' with both, but only one will make it stick, and it's not the one with lots of highlighter.

K-beauty's ethos is skincare first. Good skin is the foundation for all things to be built upon. It isn't just a dewy finish or a pimple-free existence, it is healthy, hydrated, and glowing from within. Once you're on the right path with skincare, the 'point beauty' becomes pretty fun to play around with.

There are also so, so (soooooooooooooooooooooooooooooooooooo) many brands, and they fall into mostly two categories: Roadshop and Department store. You also have those that are only stocked online, only stocked in concession counters at certain stores, those stocked in beauty aggregate stores like Olive Young, LaLavLa (formerly Watsons), Aridaum, Chicor and LoHBs. It's a lot.

Road shop brands: those that you see on the street with a bricks and mortar store of their own branding. Usually carry both makeup and skincare and are in the more affordable price range, though some lines can cost upwards of 50,000won. Often more popular with the younger generations.

Department store brands: high end. Sometimes they'll have stand-alone stores in the more expensive areas, but for the most part you can only find them in department stores. A lot of the Korean brands in department stores are HanBang, so their products feature a lot of traditional herbal medicinal ingredients, a lot of fermentation.

Olive Young, LaLavLa, Aridaum, Chicor, LoHB: aggregate beauty stores that sell a mixture of road shop brands, own brands, and foreign brands. They tend to have a wide array of skincare brands available to try and test. Aridaum and Chicor's product line up tends to be on the higher end of Korean products; Aridaum only stocks Amore-Pacific brands, Chicor carries the harder to find foreign brands as well as its Korean brand lineup.

Personally, I like a lot from each category, and there's something from all price points in my collection. I tend to mix and match to what I feel my skin needs.
Where do I start?
FIRST THINGS FIRST: KNOW YOUR SKIN TYPE.
Dry? Oily? Combination? Sensitive?

Second, if you know that you are allergic to or irritated by any ingredients, it's a good idea to have that list handy. If you don't have a list then make a list, it makes things a lot easier.

Then, it's best to start with skincare. Makeup is the easier part.

Skincare
I absolutely do not recommend changing your entire routine in one night, or over a short period of time. Literally throwing a bunch of new products, formulas, ingredients, at your very delicate face is going to cause breakouts, potential reactions, or overall badness and then it'll be almost impossible to identify what was the cause.

Although it takes around 6 weeks at least to see results from a dedicated skincare routine, new products can cause an immense amount of problems very quickly, and then we (the collective) are back to square one, only you (the collective) are way less happy with the idea of a K-beauty routine.
Target one product at a time
I know getting a new skincare routine can be exciting, and in the haul culture we are living in buying things that could potentially get us that wonderful, glowing, #nofilter skin is a rush like no other. The Beauty Salvation Myth is an interesting phenomenon and one that we are all intended to perpetuate by continually buying the new It Thing.

So I'm here to tell you to please please please please please Pleaseeee do not buy a bunch of products. Especially if you're just getting into Korean skincare brands. It's expensive, price markups and shipping costs are no joke if you're not living in Korea, and to do all of that and find your skin really doesn't like something is a let down.

My recommendation is to buy no more than three (3) new products for your routine. It's slow going, but it'll minimise disappointment, chances of reactions, and allow you to adjust and adapt as necessary.
Absolute Essentials:
Cleanser, Moisturiser, Sun cream/Sunscreen

These are the barest of bones for a Korean Beauty / Skincare routine.
Cleanser to remove impurities,
Moisturiser to rehydrate,
Sun cream to protect from sun damage.

They should be used every day, especially sun cream!


My recommendations (get one out of the three suggested for each product 🙂 ):


Cleanser
– COSRX Low PH Good Morning Gel Cleanser
It's very gentle, fragrance free, good for all skin types as it doesn't strip the skin of natural oils, instead using purifying botanical ingredients and mild acids to gently cleanse. It's pH is 5. I do like this, use it daily.


– Innisfree Green Tea Cleansing Water
An easy way to take things off at the end of the day – it's a micellar water that is enriched with green tea seed to help keep the skin moisturised. It isn't a lower pH, but it does aim to help keep the skins pH level healthy.


– Belif True Tincture Cleansing Stick
Suitable for all skin types, containing chamomile extract and flower petals, toeing the line between a neutral and slightly lower pH value. It claims to help redness, dullness, dryness, and uneven texture. I can't personally attest to these claims as I have YeT to TrY iT – but it's basically The Next Thing To Try once I've run out of my current foaming cleanser. All the reviews I've seen for it are incredibly positive.



Moisturiser:

– Innisfree Orchid Enriched Cream
One of Innisfree's four best sellers, the Orchid Enriched Cream is, no surprises here, enriched with cold growing orchid – a plant native to Jeju Island. The cream aims to 'strengthen inner-skin cohesion', while helping reduce the appearance of wrinkles, improving elasticity, minimizing the appearance of pores, nourishing and improving skin tone. Which is a lot.
Good God does my skin love this. If I've lapsed on my skincare and my skin is feeling kind of dry, I'll slap a bit of this on and it is wonderful. The cream absorbs well, isn't sticky after application, and leaves my skin feeling hydrated. It's quite a thick cream as creams go, but it does a lot for my skin.


– A'Pieu Madecassoside Cream
Claims it strengthens the skin's barrier by provided a protective film to the skin, it is 'derived from nature', and contains ingredients that are aimed at moisturising somewhat intensely. Madecassoiside is used in products that are targeted towards irritated skin, or skin that needs repairing, with other ingredients in this cream helping to sooth and calm.

This cream is pretty awesome. It's quite thick, takes a couple of seconds to absorb after application, but once it's on you can't feel it at all. It is intensely moisturising, but without that horribly sticky feeling. It's a really great cream. A'Pieu is a brand that focuses on infusing great skincare properties into even its makeup, so it's a fab Korean Beauty brand to check out.


– Etude House Soon Jung 2x Barrier Intensive Cream / Soon Jung Hydro Barrier Cream
2x Barrier Intensive Cream: good for all skin types, and is especially kind to sensitive skin. It packs a powerful moisturising punch without feeling greasy afterwards, and is pretty minimal with its ingredient list.
The Hydro Barrier Cream is new on the market (as of April 2019) and I just saw it in store this week. It has a very similar lineup of ingredients to the 2x Barrier Intensive Cream, though might not be great for oily skin as it's pretty full of emollients (as shown on cosdna).

Etude House has been hit and miss for me on skincare, until they released their Soon Jung Line. It was the first line of low pH skincare that I tried, and it's generally very affordable and very effective.



Sun cream / Sunscreen:
Super, super important. Often base products will have integrated SPF and PA values to add extra protection to your daily facial sun cream. Whether you apply sun protection under or over your moisturiser is up to you – both are argued for here – the importance of it is undisputed, as it is one of the biggest things that can prematurely age your skin.


–Missha All-Around Safe Block Waterproof Sun Milk SPF 50+/PA+++
A favourite in the Korean Beauty world, it's key ingredients are Aloe Vera leaf extract and Rose extract. It's perfect for the Korean summer – horrible humidity means so much sweat (ew, but true) – as it's waterproof, provides sebum control, and withstands sweat from sports or other outdoor activities. It isn't particularly thick and wears well.

There are also others in the All-Around line – All-Around Safe Block with Tea Tree extract is great for oily and acne prone skin.


– Dr Jart+ Every Sun Day SPF 50+ / PA+++
Cruelty free!!, absorbs quickly, adding moisturising and soothing properties to your UV defense to help sun irritated skin. It does have pink-toned colour correcting and brightening, so it may not be great for every skin tone, sadly.


– Innisfree Blueberry Rebalancing Watery Sun Cream SPF 37 / PA+++
A physical sun cream as opposed to chemical, the Innisfree Blueberry Rebalancing Watery Sun Cream removes that gloopy, creamy texture and presents – clue is in the name here – a watery one instead. With a pretty nonexistent white cast, this is an insanely affordable option at 9000W for 40ml. It is only SPF 37, though.
The Next Steps
Once the barest of bare bones are down, and your skin is happy with them, you can start building up your Korean Beauty routine. Again, do not introduce more than one new product at a time as if you are allergic or your skin is reactionary to any of the ingredients it is much easier to pinpoint the cause and discontinue use.


So, after you've found your cleanser, moisturiser, and sun cream I would recommend adding toner and serum/ampoule.

Toner: balances the skin
Serum/Ampoule: a way of delivering a potent amount of specific ingredients to the skin.

Some may question me suggesting that toner isn't included in the bare bones of a Korean Beauty routine… I mean it is, and I consider it as such. But introducing too many products at one point in time does more harm than good, even if toners don't tip the scale all that much in potential problems.



Toner:

– Klairs Supple Preparation Facial Toner
Alcohol free, packing a serious hydration punch with hyaluronic-acid, and good for sensitive, irritated and stressed out skin. It is formulated with amino acids to help reduce irritation and provide deep hydration. The texture is somewhere between a water and an essence.


– Sulwhasoo Essential Balancing Water Ex
'A gel-textured water that prepares the skin for intense moisturisation'. It's consistency is thicker, but not sticky and a little goes a long way. It's packed full of antioxidants: Matrimony Vine, Ophiopogon Japonicus Root Extract, and Camellia Sinensis Leaf Extract.

Sulwhasoo is a hanbang brand and pretty damn pricey for the pleasure. But, its a brand that is adored in the world of Korean beauty, and although I cannot personally attest to its magic, they have lines that are truly raved about.


– Mamonde Rose Water Toner
Containing Damask rose water, this vegan toner aims to soothe and purify, absorb quickly for fast hydration, and contains lactic acid (an AHA) to gently exfoliate. It's alcohol, sulfate, paraben, silicone, and cruelty free.

I bought the biggest bottle of this I could find at Olive Young (500ml), and I went to five stores to find it. It's wonderful. I can attest to the hydrating power, but it doesn't feel heavy on your skin, prepping it nicely for the rest of my routine.



Serum

– It's Skin Power 10 Formula Effector
Each individual serum targets a different skin concern, and there are thirteen different types, tackling skin issues such a dryness, balancing sebum production while ensuring moisture, fine lines and wrinkles, collagen boosts, improve dark spots and brighten the skins appearance overall. There's a serum for almost every concern. They all have different viscosities, but can be layered together. In fact, It's Skin provides a handy dandy flow of how you should layer them all if you wish to. They're super affordable, long lasting, and the packaging is lovely.

I have and use both the Vitamin C (VC) and Vitamin E (VE) Effectors in my daily routine, used in tandem. You can see what I thought about them in my VC and VE Effector review.


– Punkang Yul Moisture Serum
Target skin type is oily. Aims to deliver the optimum moisture to oil balance for a healthy complexion, providing a calming or cooling effect whilst deeply hydrating. Free from fragrance, texture enhancers, fillers, and other additives, it has a simple, hypoallergenic formula for maximum effect. With Coptis Japonica Root Extract (antioxidant, anti-inflammatory, may have links to preventing sagging), Olive Oil (hydration, antioxidant), Butylene Glycol (humectant, thinner to help absorption), and Caprylic/Capric Triglyceride (emollient), the serum aims to calm, hydrate, replenish the skin's surface, and prevent moisture loss. CosDNA gives it a low hazard rating. It's thicker than your average serum, white in colour, and really bears more resemblance to a lotion.

Another hanbang brand! Formulated by Pyunkang Oriental Medicine Clinic in Korea, this brand has been piquing the interest of Korean Beauty bloggers all over. It has easily identifiable cobalt blue bottles, that give it a really nice 'apothecary' or 'skin technician' feel, and with simple product formulations that reap results, it's easy to see why these little blue bottles are lining the shelves.


– Klairs Rich Moist Soothing Serum
Blending organic ingredients – you've got celery, carrot root, and broccoli extract in here – this serum aims to replenish your skin's moisture without upsetting the delicate balance of it. Reformulated so that it absorbs faster, it's a serum for all skin types, cruelty free, and also free from irritants. It has a light, gel texture that doesn't feel sticky on the skin after application.


Added extras:

Double cleanse – the act of using an oil based cleanser to remove oil based impurities – pollution, SPF, makeup, sebum – as a first step, followed by a water based cleanser (foaming/gel/cleansing waters) to remove water based impurities – sweat and other dirt. A Korean Beauty staple.

Also note that cleansing waters are not the same as micellar waters. Micellar Waters are formulated with oil to help remove oil based debris in one step, whereas cleansing waters are water cleansers, best used after oil cleansers to make sure all the oil based impurities have been removed from your skin.

It can be time consuming, but is a process that can work for all skin types using the right products.
For oily skin, don't stress about adding more oil to your face. It can actually do a lot of good! Oils dissolve oils, so science suggests that oil cleansers are perfect to use on oily skin without clogging pores or making oil production worse.

The key is to look for lightweight products that are also hydrating.

There are many oil cleansers to choose from in the world of Korean beauty, so don't be afraid to try out some others if you like the look of certain ingredients (or packaging).
First step: oil cleanser
Banila Co. Clean it Zero – Purity/Purifying (blue/violet)
A cleansing balm that changes to an oil as you work it into the skin. Although its formulated for 'all' skin types, it is frequently touted as the best for oily skin. With a pH of 6.2 it is ingredient list boasts natural extracts to help balance the skin whilst gently cleansing.

You could also use the Original (pink) or revitalising (green) versions for oily skin, too.

I recently started using Clean it Zero in my own double cleansing routine, and can definitely attest to its ability to remove all the gunk you want without making your skin feel greasy or too dry.

Klairs Gentle Black Deep Cleansing Oil
A pretty mild cleansing oil with a ingredient list full of vegetable oils with various skincare benefits. It's fab for oily skin as it controls sebum production, whilst also soothing. It's also a very thin consistency, which is better for working into the skin. The rest of the formula, in line with other Klairs products, is vegan, cruelty free, ethanol free, paraben free, steroid and silicon free.
Second step: water based cleanser
For oily skin, it's a good idea to go for cleansers with a lower pH to help rebalance the acid mantle of your skin. Your skin actually slightly acidic in a healthy state, so you want something to help bring your pH back into balance.

cosRX Low pH Good Morning Gel Cleanser
The gel consistency lathers easily, efficiently removing the water based impurities of the skin. It's good for all skin types due to its fab formula – though one ingredient stands out for oily skin: Betaine Salicylate. Betaine Salicylate is a natural chemical exfoliant that helps keep your pores clean from dead skin cells that may be lurking there.

Innisfree Blueberry Rebalancing 5.5 Cleanser
With blueberry extract as an antioxidant and skin soother, the formula is sulfate free, has citric acid for anti-ageing properties and foams quite nicely while still being gentle. A good budget friendly option (its 5000won!!!! I love a good, purse friendly Korean Beauty option) to keep your skin barrier healthy.
For oil cleansing, find products with nourishing oils such as olive and camellia, and steer clear of those that can potentially dry your skin out like tea tree, lemon, and ginger.

When purchasing a water based cleanser, look for moisturisation and gentle removal products without stripping the skin's natural oils; gel cleansers are often more gentle than foaming cleansers, but there are some foaming cleansers that are formulated to be very gentle. Because nothing is ever simple.
First step: oil cleanser
Laneige Fresh Brightening Cleansing Oil
It's marketed towards all skin types, but is very gentle on the skin as it emulsifies instantly, so there's little need to use anything other than your fingers to massage the product. The presence of Grapefruit Seed Extract has a calming and soothing effect on the skin.

Missha Super Off Cleansing Oil (Dryness off)
Missha recommends this cleanser for easy removal of even heavy makeup, and deep moisturisation. It's formulated with natural oils, starring Argan Oil (Argania Spinosa Kernal Oil – gentle exfoliation and deep moisturisation), Sweet Almond Oil (supports hydration balance), and Shea Butter (long lasting moisturisation). It's free of synthetic fragrance, mineral oils, and parabens, and is specially formulated to be non-irritating to the skin.

Second step: water based cleanser
Vely Vely Mild Cleanser
An effective yet gentle cleanser with a formula that aims to moisturise and maintain the skin's natural pH balance. It is a gel texture to help with removal of impurities so it is gentler on the skin, and doesn't get particularly foamy.

Make P:rem Safe Me Relief Moisture Cleansing Foam
Cleanses skin gently without exacerbating sensitivity or irritating. It's got a low pH (5.5), and pretty much does what it says on the proverbial tin.
If your skin is prone to acne, then look for products that have added goodies like tea tree (leaf) oil, licorice root, a low pH, gentle exfoliators, and moisturising properties. If you're dealing with a breakout, try not the dry the section of your skin out – instead you want moisture!

First step: Oil Cleanser
Hanskin Cleansing Oil & Blackhead (PHA)
A cleanser that does more than just remove impurities from a day outside, this cleanser has an added chemical exfoliant in polyhydroxy acids (PHAs) which are gentle for sensitive skin. The added PHA helps keep blackheads away, and gently removes dead skin cells. It also has Tea Tree Leaf Oil to fight breakouts and jojoba oil to help hydrate the skin.

Erborian Solid Cleansing Oil
Combining the ease of an oil cleanser with the gentle touch of a hydrating moisturiser in one product. It contains Centella Asiatica Extract, a traditional Korean Beauty ingredient that has medicinal values for soothing irritation and promoting wound healing and skin damage. It also helps to remove excess sebum from the skin so that you are ready for the next steps in your skincare routine.

Second step: water based cleanser
Innisfree Bija Trouble Cleansing Gel
With Salicylic acid as it's acne-fighting agent – a BHA to clear away dead skin cells to reduce acne causing nasties – this cleanser has a pH of 3, and is gentle on the skin. It is a non-foaming cleanser, so you're not going to get any sudsy action, but it is a lightweight gel that contains wonderful antioxidants, such as bija, satsuma, green tea, and Camellia Japonica.

cosRX Low pH Good Morning Gel Cleanser
The gel consistency lathers easily, efficiently removing the water based impurities of the skin. It's good for all skin types due to its fab formula, containing Betaine Salicylate and Tea Tree Leaf Oil to help prevent breakouts. Betaine Salicylate is a natural chemical exfoliant that helps keep your pores clean from dead skin cells that may be lurking there, and Tea Tree Leaf Oil has antibacterial, anti-inflammatory, antiviral, and antifungal properties. It's a little bit magic.
For those with sensitive skin, products with an ingredient list a mile long can be really daunting. Thankfully, Korean beauty brands are all about the natural extracts, and a lot of them are phasing out formulas with known irritants, favouring a more pared back approach. There are also more brands popping up with 'clean beauty' as an ethos – minimal ingredients that work, such as Pyunkang Yul and Klairs.

First step: oil cleanser
Aromatica Orange Cleansing Sherbet
An oil cleanser that has Babassu oil to help clear your pores gently, and orange peel extract to refresh and lightly exfoliate the skin without irritation. It also helps to balance the skin's oil production to maintain a healthy skin barrier. It has a pH of 4.5.

cosRX Low pH First Cleansing Milk
Oh wait! It's not an oil!!! No, it isn't but it does the same job; cleanses your face from oil-based impurities without irritating, drying out, or otherwise compromising the skin barrier. With a pH of 5.5, the formula is lightweight and has a gel-cream consistency. It has papaya fruit extract for softening, witch hazel extract to calm inflammation, and allatonin for healing and moisturising. Skin should feel smooth, nourished and not dry after use! It's free from parabens, sulfates and phthalates.

If you have a sensitivity to witch hazel, however (I do 🙁 ) this product may not be for you.

Second step: water based cleanser
Near Skin pH Balancing Cleansing Foam (Missha)
Formulated with mineral water from Seorak Mountain and Sapoin compelx, this cleansing foam has a subacid base that helps your skin stay at pH 5, the optimal pH for skin. It's packed full of amino acids that help cleanse thoroughly, whilst being gentle and helping to maintain moisture.

Innisfree TheMminimum Facial Cleanser
With only 8 ingredients, this cleanser is specifically formulated for sensitive skin. Its cosdna profile shows no irritants or acne triggers, and it is alcohol free. It ever so gently cleanses water based impurities, as well as removing the last bits of your oil cleanser from your first step, showing that it's impressively thorough, despite the short ingredient list. It doesn't leave the skin feeling dry or tight.
You lucky ducks, you. Essentially, you can choose pretty much any oil cleanser that you want, as any of the targeted ingredients will help your skin. Still, you don't want to purchase anything that is too drying, and be on the lookout with cleansers with a lower pH value so you maintain your skin's barrier.
Fist step: Oil cleanser
Missa M Perfect BB Deep Cleansing Oil
Formulated to remove the Missha BB Creams, this is a great cleanser regardless of what you're removing from your skin. Even the waterproof stuff! It contains coconut, grape, and macadamia seed oils to help leave a smooth and healthy complexion.

Laneige Perfect Pore Cleansing Oil
Containing mugwort extract, it effectively cleans your pores, removing even heavy makeup, sebum, and those pesky blackheads. With a mild formula, it's gentle on the skin as the oil has a similar structure to the sebum your skin produces naturally, so the impurities melt away easily.
Second step: water based cleanser
Mizon Snail Repairing Foam Cleanser
Rich in snail mucin, this water based cleanser has a soft whipped texture that effectively gets rid of impurities whilst boosting the skins collagen, firmness, and elasticity (thanks snail secretion filtrate and glycolic acid). It provides hydration and can combat any budding breakouts, should you need it to.

TonyMoly Peach Punch Sweet Foam Cleanser
With olive oil and peach extract, it has a mild formulation to effectively cleanse the skin from impurities without irritation. Some reviews say the cleanser can be a stiff out of the tube, but it foams nicely.
For combination skin, it's a tricky game to play with cleansers. What can work really well for the more oily parts of your face can really dry out the less oily parts.

Never fear! Korean Beauty has your back 😉
First step: oil cleanser
LeeJiHam Dr's Care Cleansing Oil
Billed for all skin types, this cleansing oil works well on combination skin too. It's a very thin, runny texture, which enables it to emulsify and get all the gunk off your face fast. It does have a few ingredients that can be a red flag for some on its cosDNA profile, but considering it's a first step cleanser and will be washed off, it is unlikely that those ingredients will stick around on the skin long enough to cause problems.

Heimish All Clean Balm
A balm cleanser that effectively dissolves excess sebum and eliminates oil-based impurities from the skin. It does so easily, free from harsh ingredients, even with stubborn makeup and sun cream. It's jammed full of goodies: vitamins A, C, D, and E; rose and lavender extracts to promote collagen production; grapefruit, orange, and lime extract to brighten your complexion; tea tree to clear/ reduce blemishes; and shea butter, coconut and donkey milk (Korean beauty loves a good 'makes you do a double take' ingredient) to hydrate and nourish. That's a whole lotta goodies. Plus, it's fragrance, mineral oil, and paraben free.
Second step: water based cleanser
Neogen Real Fresh Foam Green Tea
Full of antioxidants and fermented green tea extract, this cleanser was formulated with combination skin (as well as oily and acne-prone skin) in mind. Green Tea extract brightens, calms, and hydrates the skin, and the gentle foaming formula removes impurities without damaging the delicate skin barrier.

Too Cool For School Egg Mousse Soap Facial Cleanser
Combining milk proteins, amino acids, and both egg white and egg yolk extracts to cleanse the skin thoroughly. Egg white extract dissolves excess oil and eliminates dead skin cells; egg yolk extract nourishes the skin to leave it smooth and supply. It's also paraben, sulfate, and pthalate free. This cleanser is also a bit of fun to dispense: you have to shake it really well for the product to foam up.
For age related concerns, look for products that contain avocado, cocoa, and wheat germ oils. A common misconception is that Roadshop brands won't cater to ageing skin, when they do! A lot of Korean beauty brands carry a range of lines, and brands like Missha and Goodal (an offshoot of Clio) have an older target audience. Also, even though Nature Republic is endorsed by endless K-pop bands – though I guess Exo just owns that slot now – it has a lot of really decent lines for all skin types. Innisfree is another I'd recommend.

First step: oil cleanser
Nature Republic Forest Garden Cleansing Oil
Contains JoJoba Oil and Chamomile Extract in Jeju Sparkling water, it's great for those with skin concerns such a rosacea. Chamomile has anti-inflammatory properties, so it's a soothing formula that also deeply cleanses.

Second Step: water based cleanser
Neogen Real Flower Cleansing Water with Calendula
This cleansing water is infused with real Calendula, it cleanses effectively whilst being gentle and hydrating. Calendula is an anti-oxidant and a collagen booster, so it's pretty effective in use for helping ageing skin.
The Two cosRX products that I will forever repurchase:
cosRX Advanced Snail Mucin 96 Power Essence
With a massive 96% snail secretion extract this packs a serious punch in the realms of skin repair and hydration. It's wonderful. It's great for all skin types and has a pH of 6.5. It's a Korean beauty cult favourite for a reason.

cosRX AHA 7 Whitehead Power Liquid
An essence that clears away the dead skin cells within yur pores. Using apple water, which contains AHA and glycolic acid, it relaxes pores, reducing excess sebum to get rid of whiteheads and blackheads. For me, it literally changed my skin. I was struggling with a really stubborn dry patch on my cheek, and using this cleared it up almost completely within a week.

Holy sheetmasks, Batman!
Sheet masks are something that I've talked about in depth before (seriously, a lot), and they're a great addition to a Korean beauty routine. They're an easy way to get an extra boost of hydration, and now they even do ones infused with peels, chemical exfoliants, and clay masks. There's something for every skin type, and most brands have a lot of very good, affordable options.
The K-beauty Lip Care Holy Grail
Laneige creates some pretty fab products, but the one that pretty much changed lip care for me is the Laneige Lip Sleeping Mask. Mine was gifted to me, but it's honestly the best thing I've ever tried to soothe and hydrate parched lips – other than being properly hydrated (I'm trying, ok!!!). The pots go a really, really long way, and can be used as a sleeping mask or a normal lip balm if you need that boost.

Where can I buy Korean Beauty?
I don't like endorsing sites that seriously mark up the prices of affordable roadshop brands – cult beauty I am specifically looking at you. I have been gifted products from both YesStyle and Wishtrend in the past, but I shopped with YesStyle with my own money for a reallllly long time (I was a gold member, lol) and have picked up a few things from Wishtrend with my own money. I am also kind of sad that my go-to Korean Beauty shop when I was living in England – RoseRoseShop – seems to have discontinued their services. They were fab 🙁

Anywho, here is a list of online shops I can recommend:

The individual brands online stores. A lot of brands are expanding into the international market, and as such have developed English Language web pages! Which is great, as you can get authentic products straight from the brand themselves, rather than having to go through a third party.

YesStyle
Wishtrend
KoreaDepart
Jolse.com
SweetCorea
Peach & Lily
SokoGlam
BeautynetKorea
G-market global
memebox


So, there we have it. I'll cover the makeup side of things in a different post, otherwise we'd all be here for far too long and I think it's high time I did the Nintendo Wii thing and suggest that I think you need a break. 😀
If you have any questions, feel free to drop me a comment!



Follow me!
Reader Interactions